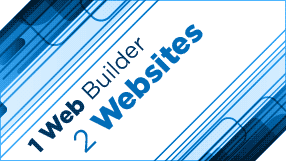 How to Build a Website for Mobile Phones
Mobile Web Builder & Site Hosting
As the name suggests, QuickontheNet.com (from Quick on the Net Limited) is built for speed.
Remember buy the 'Mobile phone website' upgrade with your new site at QuickontheNet.com, you can be certain that your internet site is going to perform extremely well on a smartphone device.
Even the sign-up procedure is quick and easy, your new website can be activated within minutes and you can receive a user account via instant email delivery. Just log in and then you're on your way.
Hosting Service
Everything is hosted, from day-one. For those of you familiar with FTP access, you do not need to worry about that stuff, because everything is managed through our easy-to-use website builder toolkit; therefore, you do not need any FTP software when you use our website service.
When you use our website tools, you do it all online, through your web browser and there is no need to download any software.
All you need to do is prepare your photos and logo images and a suitable size for display on the internet and then add them to your website.
When you sign-up, we give you instant password-controlled access to our unique website builder tools through your internet browser. It's rather like logging in to your favourite email account, except that the QuickontheNet.com website toolkit allows you to manage and update your business website.
When you make changes and update your site, the results are immediate and your hosted web pages are updated instantly, without any delay. And of course, because it's all online, you can make changes at a time that's convenient to you.
Use Templates or Create your own Site
You can use one of our design templates as a starting point and then modify it for your own needs, or create your own website if you prefer. Either way, it doesn't matter which option you choose, because you get access to the same web builder toolkit, whether or not you choose to purchase one of our creative 'click and buy' templates, or build your own site from scratch.
2 Websites from 1 Site Builder
When you have a mobile phone site at QuickontheNet.com, your main website (regular full-graphics non-mobile site) and your mobile site are both powered by the same web builder system. As you can imagine, that makes it easier for you to manage.
Create a Mobile Site
Now here comes the good news! When you buy the 'Mobile phone website' upgrade with your new site at QuickontheNet.com, you can relax in the knowledge that your website is going to perform extremely well on a cell phone handset browser, without you even having to think about it.
Build your regular non-mobile website and view it on your large monitor; and your mobile site will magically appear behind the scenes. It's that simple.
The mobile site itself is optimised to be used on a cellular network, with quick-loading undersized pictures for display on a small touch-screen device, with edge-to-edge readable text and it is supplied with a 'sniffer' which will automatically attempt to detect if your website is being viewed on a mobile phone handset. If a smartphone device is detected, the user will be directed to a mobile phone pre-home page.