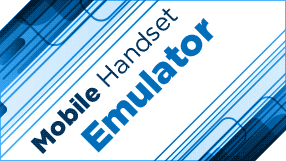 Mobile Phone Emulator for your Desktop Computer
Hosted Mobile Handset Templates
We provide a screen emulator to you to plan your website design and contents, so that your site can easily be viewed on a mobile phone (cell phone) or pocket computer.
So, all you need to do is view the emulator on your normal computer screen, to simulate the mobile phone screen technology get an idea of how your website could look on a hand-held device.
Please click the 'Mobile phone emulator' at the very bottom of your computer screen.
Important Notes
Please note that the emulator is not designed to give you an exact reproduction of how your site will appear on a phone or pocket computer.
Therefore, the emulator is only intended to give you a helpful impression of how your site will be displayed on a small screen device.
Certain features will work on your emulator, but might not work on your phone handset. For example, Flash Video will work on the emulator, but your phone might not be capable of displaying Flash Video.
The usable screen area on your handset device can be reduced by the browser toolbar at the top and bottom of your browser interface.
There can be additional trimming caused by scroll bars at the bottom and right side of the touch-screen active area.
In summary, the emulator is intended to be fun and interactive, giving you a flavour of how your website will look on a range of phone handsets and hand-held computers.
Featured Smartphones
Our plan is to feature the world's most popular smartphone handsets:
BlackBerry Bold 9780
BlackBerry Bold 9900
BlackBerry Curve 3G
BlackBerry Torch 9860
Google Nexus S
HTC Sensation XE/XL
HTC One X
HTC Wildfire S
HTC 8S Windows Phone
HTC 8X Windows Phone
Apple iPhone 3G
Apple iPhone 4
Apple iPhone 4S
Apple iPhone 5
LG Optimus Black
LG Optimus One P500
LG Optimus G
LG Optimus 3D
Motorola Atrix
Motorola Defy+
Motorola Droid RazrMaxx HD (not available in UK)
Motorola RAZR
Motorola Razr i (handset with Intel chipset and processor)
Nokia Lumia 800
Nokia Lumia 920
Samsung Galaxy Nexus
Samsung Galaxy Note
Samsung Galaxy S2
Samsung Galaxy S3
Sony Ericsson Xperia Arc S
Sony Xperia S
Sony Xperia T
The smartphones highlighted in bold text above have been emulated.
As a website owner, you have the option of turning your emulator facility on or off.
Even if you choose to turn off this feature, you can still view the emulation service on your own website through the development toolkit provided at QuickontheNet.com.
Handset Simulation
One of the most helpful aspects of this service is that the emulator itself is live and operational and the menu button links are fully activated, so you can simulate and test the smartphone usability experience, in addition to assessing appearance and design of your mobile site.