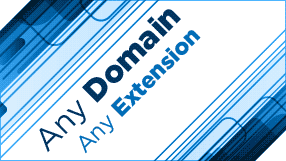 How to Register a Domain Name
Mobile Phone Domain Name Registration
As a general guide, you can use any domain name with any domain name extension for your website at QuickontheNet.com, provided your domain registrar offers what is known as 'DNS Management'.
This includes international domains, such as .COM or .NET, and localised country-specific domains, such as .CO.NZ for New Zealand or .DE for Germany, or regional domains such as .ASIA or .EU.
For the purpose of presenting your website on a mobile phone platform, there are three main industry standards:
It is possible that we can support any of these options above, depending on what your domain registrar is capable of doing.
Let's work our way through each option:
/mobile/
This is our preferred option and our system is automatically set up to operate with /mobile/ (a directory) on the end of your domain name extension, whenever you purchase the 'Mobile phone website' upgrade at QuickontheNet.com.
This approach is widely used across the internet, as per the example below:
To be precise, your mobile phone site at QuickontheNet.com runs on the back of your website address with the following directory names:
/mobile/
/cellphone/
/pda/
m.
Sometimes described as "M dot", this is a sub-domain of a TLD (top level domain).
What is a sub-domain?
As an illustration, in www.cardealer.quickonthenet,com, the word 'cardealer' is the sub-domain of quickonthenet.com (a top level domain).
M. in itself has no technical intelligence, but it is often used as a web browsing destination for mobile compliant websites.
.mobi
The use of certain domains is governed by regulations. For example, .COM.AU is regulated and it is exclusively available for business owners in Australia; whereas .CO.UK is the most popular type of domain name for companies and individuals who trade or live in the UK, yet there are no geographical ownership restrictions on the .CO.UK domain name.
The use of .MOBI is also governed by regulations. There are no geographical restrictions, however there are compliance issues, because .MOBI is specifically for websites and services for mobile devices.
Any site using a .MOBI domain name:
Must be built using compliant mobile code.
Must responds to requests from mobile devices at its primary URL.
Must not use frames.